Lease or Finance: Which Is Best for You?
When you look for your next vehicle, one of the first decisions that you will have to make is whether to lease or buy. Norwood drivers may have heard one option is better than the other, but the reality is that both are excellent options. One option may suit your lifestyle and budget better than the other, but you will find opportunities to save on financing when you choose Boch Chevrolet.
At Boch Chevrolet, we serve Brockton and beyond by not only carrying high-quality new Chevy trucks and providing expert auto service, but we also offer a more affordable way to buy or lease your next vehicle. While auto financing can be a time-consuming and frustrating process, our finance team is here to create opportunities instead of obstacles.
Find out the major differences there are between leasing and loaning to discover the option that works best for you.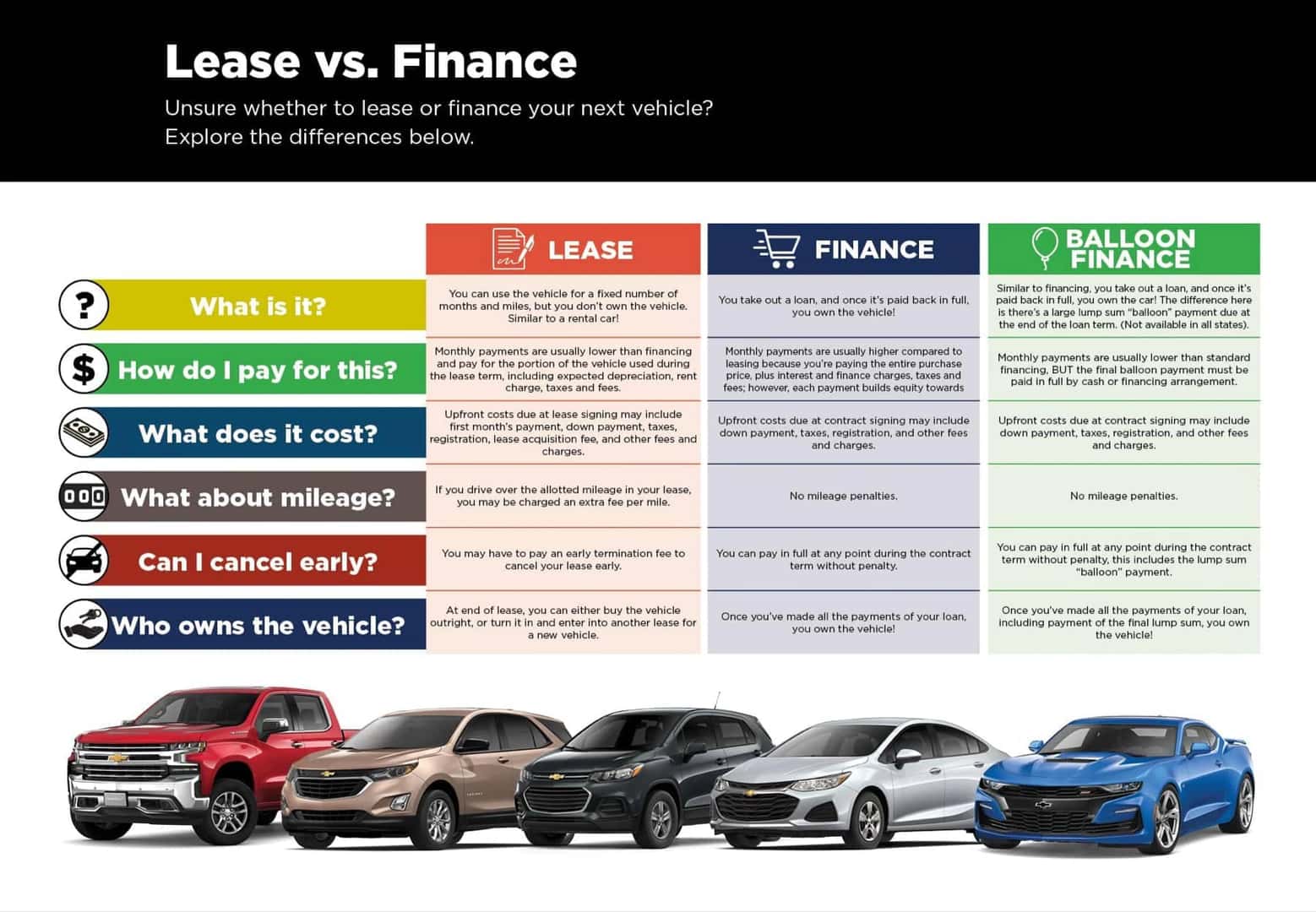 EXPLORE YOUR OPTIONS
EXPLORE YOUR OPTIONS
The Benefits of Buying a New Chevy
Buying is an excellent choice for Needham drivers who are interested in the long-term benefits of ownership. Monthly payments can be relatively higher when compared to leasing, but many find that they save money in the long run. After you have paid off the loan, you will have no other expenses except for the upkeep of the vehicle.
If you like the idea of modifying a Chevy SUV to meet the needs of your lifestyle, buying allows you to modify your vehicle in any way you choose. When you're ready to move onto your next car, you can find your vehicle's trade-in value and use it towards your next purchase for additional savings.
Some of the top reasons to finance a car near Braintree, MA, include:
Build equity
Save money in the long-term
Drive as much as you like without mileage penalties
Sell the car whenever you want
Use the trade-in value towards your next vehicle
Why Lease? Enjoy Short-Term Affordability and the Latest Features
Are you looking to enjoy cutting-edge technology and features while keeping monthly costs to a minimum? If so, leasing could be the best match for you. The depreciation of the vehicle during your term is the most significant cost when leasing, so you won't have to worry about paying off the entire sticker price
With extra flexibility in your budget, you can enjoy a wider variety of options. The right lease may make it possible to enjoy a higher trim level or more available features. You can save even more when you consider our lease specials, which allow you to take advantage of unique savings and low rates.
When your lease is up, you can skip the headache of finding a buyer or haggling for a fair price. Instead, you can drop off the vehicle at our dealership and start considering your next car. The ease of this transition with the savings of leasing make it possible to drive the latest models every two or three years.
Some of the top benefits of leasing a car include:
Less money upfront with either low or no down payment required
Low monthly payments
Opportunity to enjoy the latest technology and features
The leased vehicle is protected for the duration of your lease with a warranty
Lessees may pay less in sales tax
Financing Made Easy near Canton, MA
If you want to learn more about your options and start exploring possible leases and loans, our finance team is here to help. Contact our finance team today, and they can offer competitive pricing and a stress-free alternative to shopping your financial profile around Norwood on your own.
We look forward to hearing from you!